TriPower
Показано 1 — 1 из 1 товаров
Модель: TX30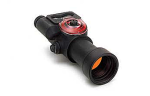 Нет в наличии
The world's first triple-illuminated reflex sight provides a perfect solution for those
requiring fast action, both-eyes-open aiming precision and speed in a diverse array
of lighting conditions. This super dependable reflex-style sight features an exclusive
red chevron-shaped reticle illuminated by three lighting sources—fiber optics,
tritium-Illuminated reticle and on-call battery backup.
FEATURES
Forged Aluminum 1-Piece Housing
Trijicon Fiber Optics
30mm Tube
Broad Band Anti-Reflective Coated Lenses
Battery Illumination Switch
Adjustable Windage and Elevation
Threaded Objective and Eyepiece
Trijicon's Tritium-Illuminated Reticle
INFORMATION
Frequently Asked Questions
TriPower Spec Chart [PDF]
Compare Trijicon Products
PRODUCT SELECTOR
Not sure what model is right for
you? Try our Product Selector.